Aren't quite sure what to get your loved ones for the upcoming holidays, your anniversary or even their birthday? If you want to be unique and surprise them in a way they will always remember, give them the gift of captured memories. This holiday season we are offering gift certificates at the value of $150 for $125! Now, that's a good deal! Read on to see why a Photo Gift Certificate is a great present idea: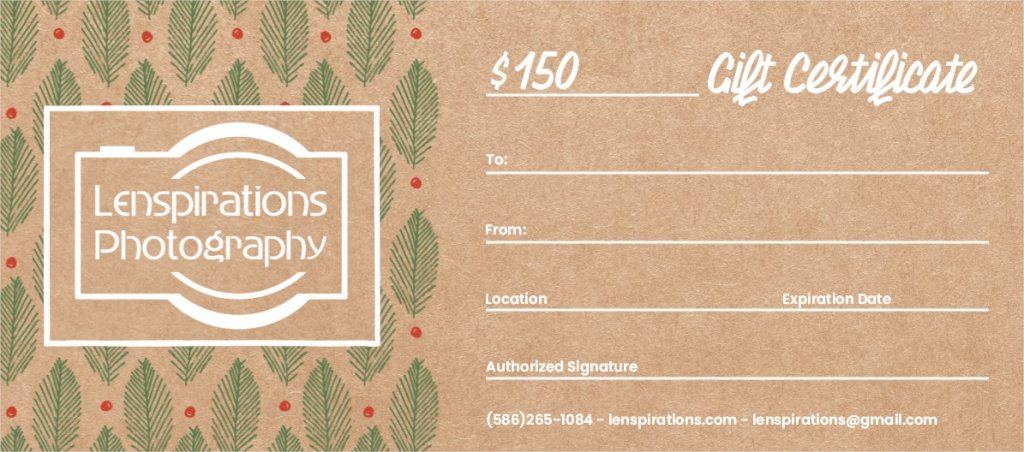 Experiences are far more memorable than any tangible gift. With a Photo Gift they get they get to have a fun experience and create some memories at the same time. And they will have something they can keep and cherish forever at the end of it. 
They can use their gift in their own time. With photo certificates, they can choose when to book their family photo session or even use it toward un upcoming special event where they may need a photographer. They get to decide when it's best to use their gift and how they want to use it. Giving any kind of gift voucher offers people more flexibility so that they can be in control of their present.
This can be a gift for the whole family. Buying a family gift is great for Christmas, for example, it can be tough to find small presents for everyone. A larger gift for the whole family can be an excellent alternative. And it's something that everyone can enjoy, not just the adults. Often when something is meant to be a family gift, it's not much fun for the kids. Adults, children, and even teenagers can have lots of fun creating their photos.
Help them create family memories. It's hard to get busy families to do fun things together. Gifts that help to create special memories are the best. A photography session is the perfect excuse to get everyone together and spend some quality time with each other. It's something that will stay with them for while: There is the experience and the emotions of the day that they can hold onto in their minds and hearts. Then there are the mementos you get to keep in the form of photographs and display at home. Every time someone in the family looks at them, they will be reminded of the fun time they had while creating those photos/memories.
Help them toward a future photography expense. Since we are allowing this gift certificate to be used for any of the services provided by Lenspirations Photography; if you know they have an upcoming event where they will need a photographer (like a wedding, christening, birthday party, etc.), this is a great way of helping them cover that future expense. Keep in mind that even though the certificates are at $150 value you can add more if you wish.
It's a great gift for the home. How, you may ask? A photo session doesn't have to be just a gift for one fun day. It leaves your loved with photos to cherish and admire. They can print prints, albums, photo canvases, mugs, collages etc. The possibilities are endless. They can become something lovely to display in the home, from that special place above the fireplace to the hallway. And, of course, they could produce future gifts to give to other people.
Photography gift certificates are a unique gift, ideal for when you're feeling stuck for ideas. You can bet that no one else has thought of the same thing and that your gift will be remembered forever. It's not just another cute coffee mug, another pair of shoes, a piece of jewelry, etc. It's a present that calls for a fun activity and keeps on giving with the resulting photos.
Please contact us to get your Photo Gift Certificate!! 🙂 And have the best and most unique Holiday gift this year! 😉
Read Photo Gift Terms and Conditions